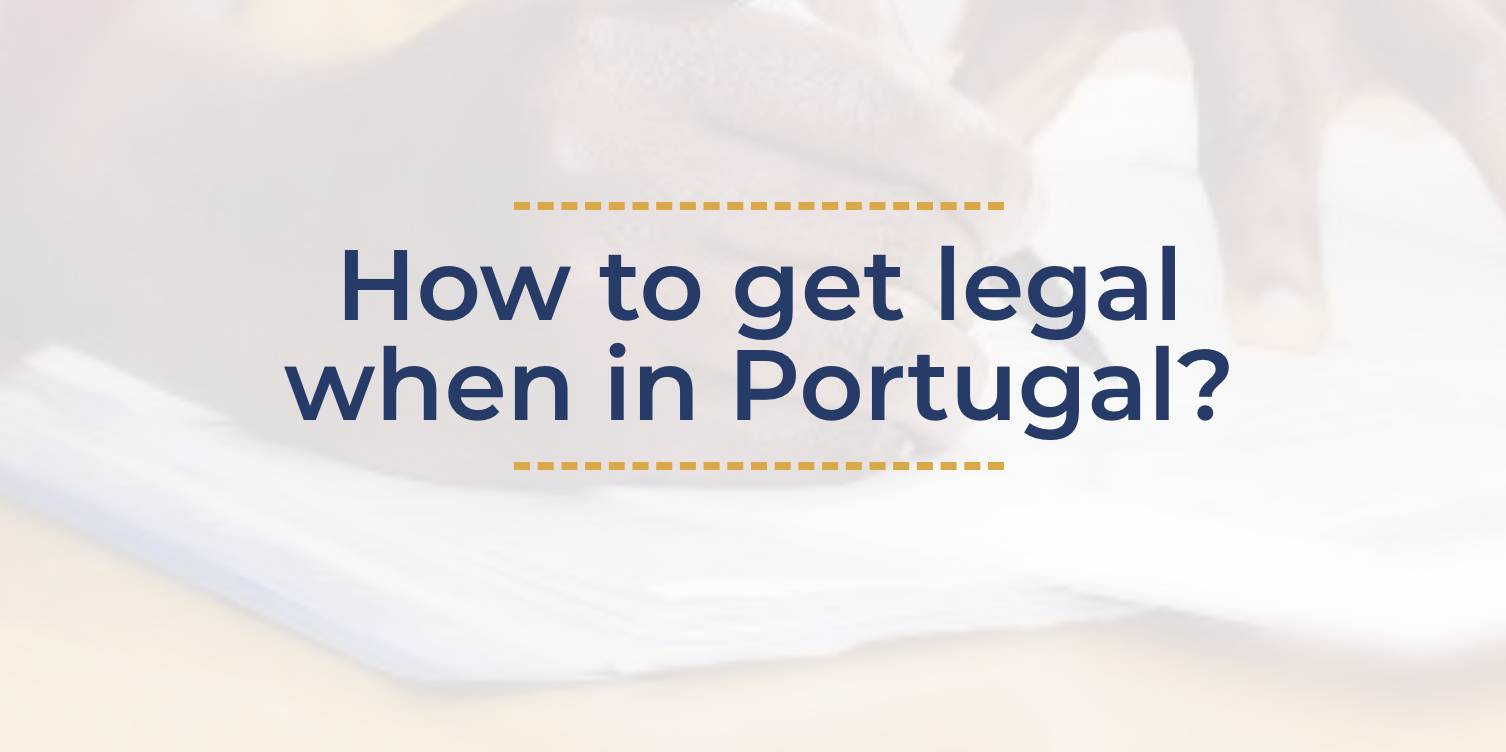 How to get legal when in Portugal?
An ex-pat in a foreign country should have a natural interest in being legalized in order to fully exercise his or her rights as a citizen. This has been the desire of many people who move to Portugal in search of better living conditions.
The good news is that there are many ways for citizens to legally reside in Portugal, even when they have arrived in Portugal without complying with the rules.

The regulatory procedure can be done through studies, business development and investments, amongst other cases.

On this topic, we recommend reading the article "All About Visas for Portugal" which is contained in the link below. Here you can find information on the requirements to legally move to Portugal.
Citizen situation

To begin, it should be noted that there are two different types of status for non-compliance with the residence rules in a given country, namely: the irregular and illegal status.
Although there is a difference between these concepts, we will consider in this article that both terms are related as non-compliance with the rules of the destination country, in this case, Portugal.

According to article 181 of the Foreigners Law: The entry of foreign nationals into Portuguese territory is considered illegal and in violation of the provisions of articles:
n. 6 (that regulates border control),

n. 9 (that regulates travel documents),
n. 10 (that regulates entry without a visa), 
n. 32 (that presents requirements for arriving in Portugal).
We can thus exemplify some situations of citizens who are in an irregular situation:

The citizen travels to Portugal on a tourist visa and does not return to the country of origin before the end of the visa period.

The citizen travels to Portugal on a tourist visa and pursues a professional activity.
The citizen arrives in Portugal by land, does not go through Portuguese border control and does not inform the Foreigners and Borders Service (SEF) that he has arrived in this country.
In addition to these, there are many other ways for citizens to live in Portugal irregularly or, also, to arrive in Portugal legally and subsequently move to the irregular situation.
Then we ask: Why is a person subject to being in Portugal illegally, what's the reason?

The answer is simple:

Obtaining a visa to enter and reside in Portugal is often difficult, costly and time-consuming.

Entering or staying in Portugal irregularly is risky, but easy, cheap and fast.
Of course, as always, choosing the easy way has also the most serious consequences. In this case, staying in Portugal illegally may entail, warnings, fines and even deportation to the country of origin.
However, fortunately, Portugal has some procedures in place in to order to regularize citizens who are illegal in this country.  If you are here illegally it is far better to take the correct steps to legalise yourself for the future.
Please use this link to learn more. Legally residing in Portugal
Thanks for reading and see you next time.

Source Vitor Queiroz VIV Europe
VIV EUROPE: OFFICIAL LEGAL PARTNERS OF KIPPERTREE.